04/19/2023
Listening to Castelnuovo-Tedesco. Works for Violin and Piano: CD Celebration at Dischi Fenice Florence.
The EMA Vinci album includes the world première recording of Fantasy for violin and piano on Themes from Donizetti, and of two Greeting Cards from Opus 170. The CD celebration, with the performers, the duo Alberto Bologni-Carlo Palese, and special guests, is coordinated by Aloma Bardi. In Florence, Italy, at the historic Dischi Fenice record store, Wednesday, May 24, 2023 at 6:00 PM.
LEGGI E SCARICA IL PROGRAMMA DELLA MANIFESTAZIONE (PDF) - A CURA DI ALOMA BARDI.

ICAMus-Programma Dischi Fenice 05-24-2023
THE ALBUM
MARIO CASTELNUOVO-TEDESCO (1895-1968)
WORKS FOR VIOLIN AND PIANO
ALBERTO BOLOGNI, violin - CARLO PALESE, piano
EMA Vinci 40079, 2018
Recorded at Livornoclassica, November 22-24, 2017
Recording and Master Audio EMA Vinci Service; sound designer Giuseppe Scali
The CD booklet is illustrated with paintings by Lorenzo Castelnuovo-Tedesco.
Fantasy for violin and piano on Themes from Donizetti, Op. 110 (1941)
Five Greeting Cards, from Op. 170 (1954; 1960)
Sonata quasi una Fantasia, Op. 56 (1929)
Event Poster. Graphic design: Daniela Baggiani-ZuMedia. Artwork: Lorenzo Castelnuovo-Tedesco. Photo: Mario Castelnuovo-Tedesco, Beverly Hills, ca. late '50s, Castelnuovo-Tedesco Papers, Library of Congress Music Division, Washington, DC.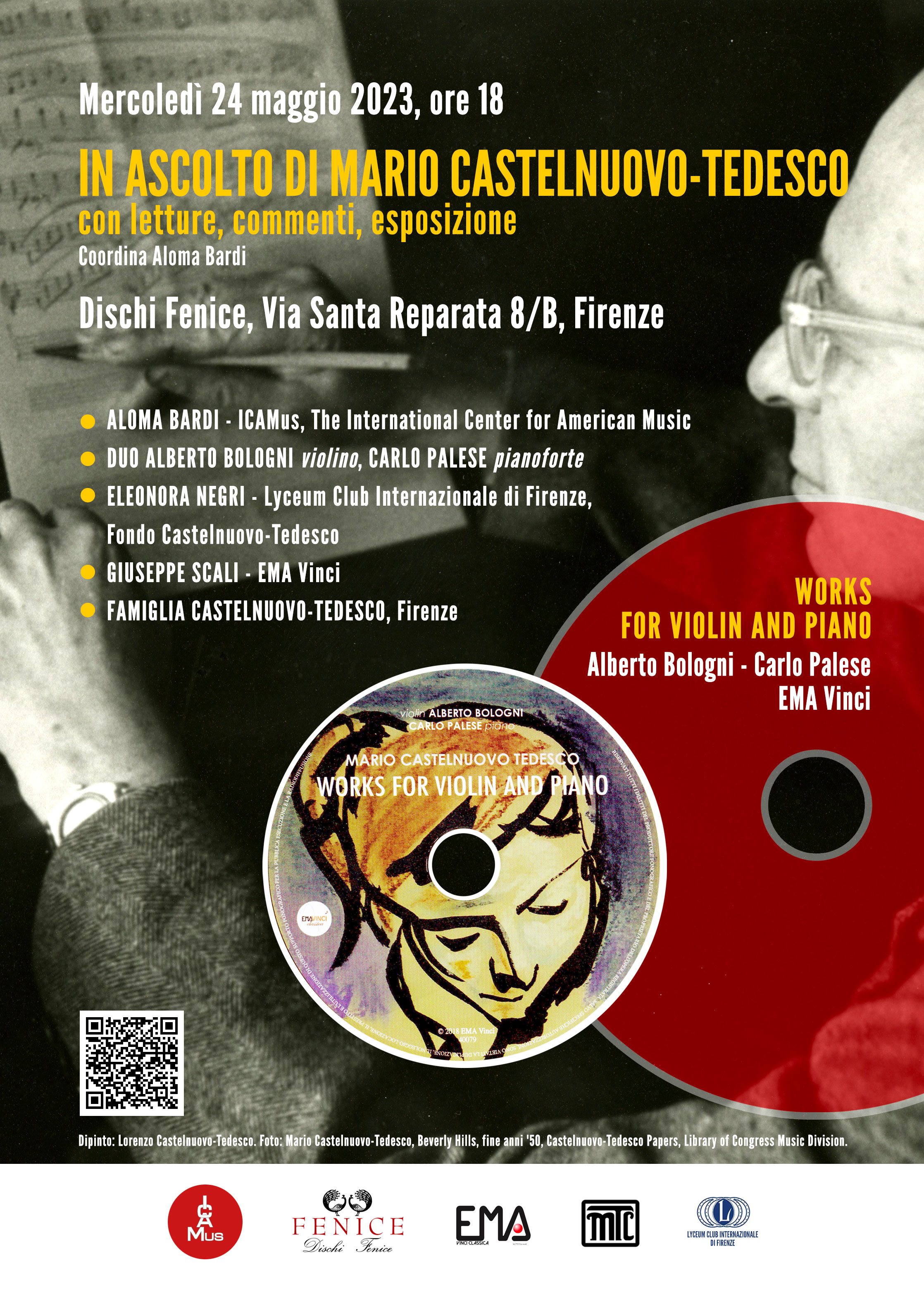 EVENT PROGRAM
IN ASCOLTO DI MARIO CASTELNUOVO-TEDESCO
nell'ambito del rinnovato grande interesse per il compositore e il suo contesto
WORKS FOR VIOLIN AND PIANO; ALBERTO BOLOGNI - CARLO PALESE; EMA Vinci
CON LETTURE, COMMENTI, MEMORIE, ESPOSIZIONE DI MATERIALI DOCUMENTARI
COORDINA ALOMA BARDI
DISCHI FENICE, Via Santa Reparata 8/B, Firenze
Mercoledì 24 maggio 2023 ore 18
ALOMA BARDI - ICAMus, The International Center for American Music
DUO ALBERTO BOLOGNI violin, CARLO PALESE piano
ELEONORA NEGRI - Lyceum Club Internazionale di Firenze, Castelnuovo-Tedesco Papers
GIUSEPPE SCALI - EMA Vinci
CASTELNUOVO-TEDESCO FAMILY, Florence
SPECIAL GUESTS:
GABRIELE BOCCACCINI - Co-Director of 2nd Italian Jewish Studies Conference, "La musica e gli ebrei nell'Italia moderna e contemporanea", II Settimana Internazionale di Studi sull'Ebraismo Italiano (Camaldoli, Arezzo, July, 3-7, 2023; Organized by Fondazione CDEC).
CLAUDIA HASSLINGER (Mezzosoprano, working with Pianist Gregorio Nardi on Renzo Massarani's career in Brazil).
Special thanks to SILVIA VENTURI AND THE DISCHI FENICE TEAM for making this new collaboration possible, and for hosting the event.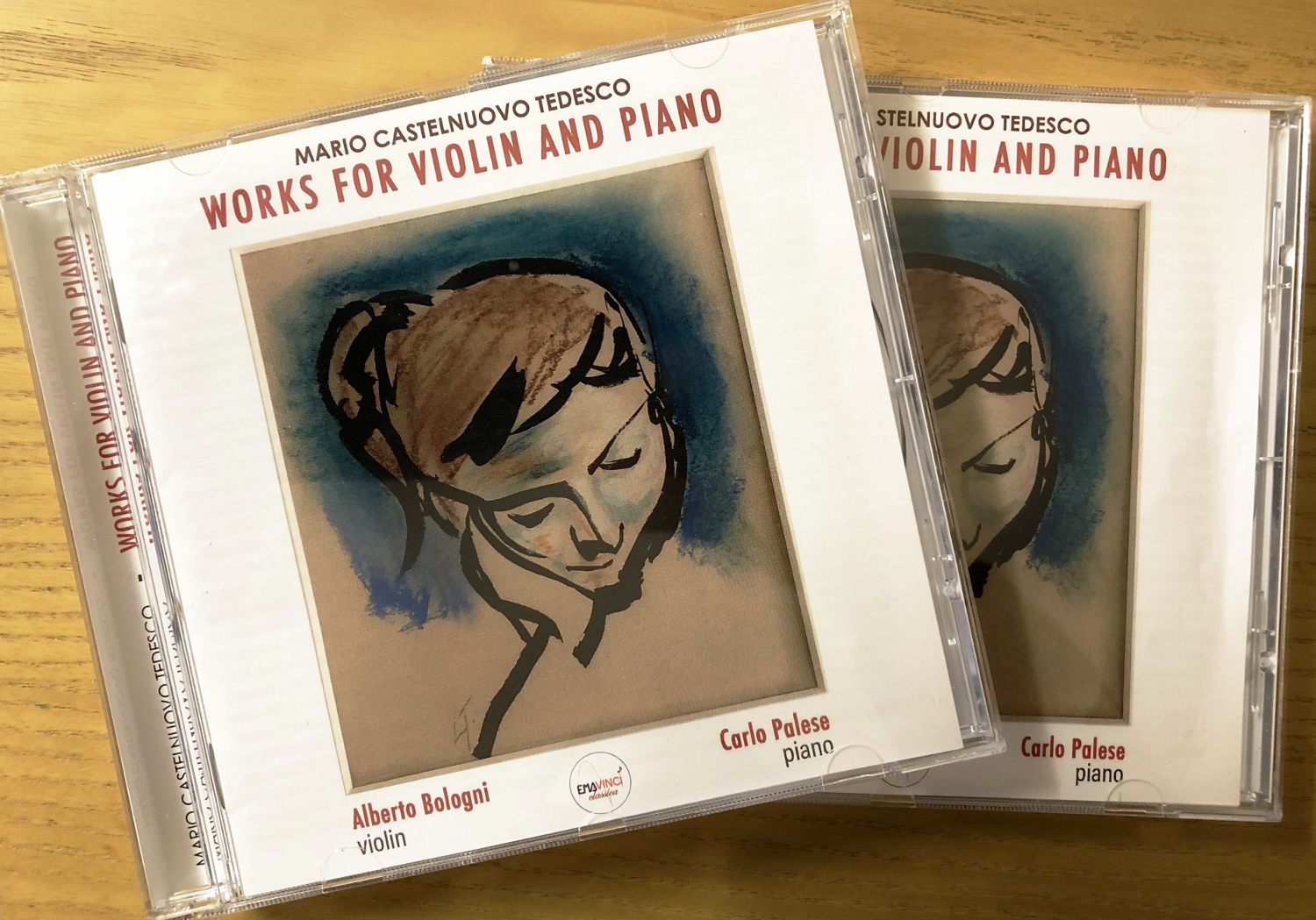 Image below: Program Cover Page. Printed copies are available for the participants and the audience at Dischi Fenice, Florence, on Wednesday, May 24, 2023, at 6:00 PM.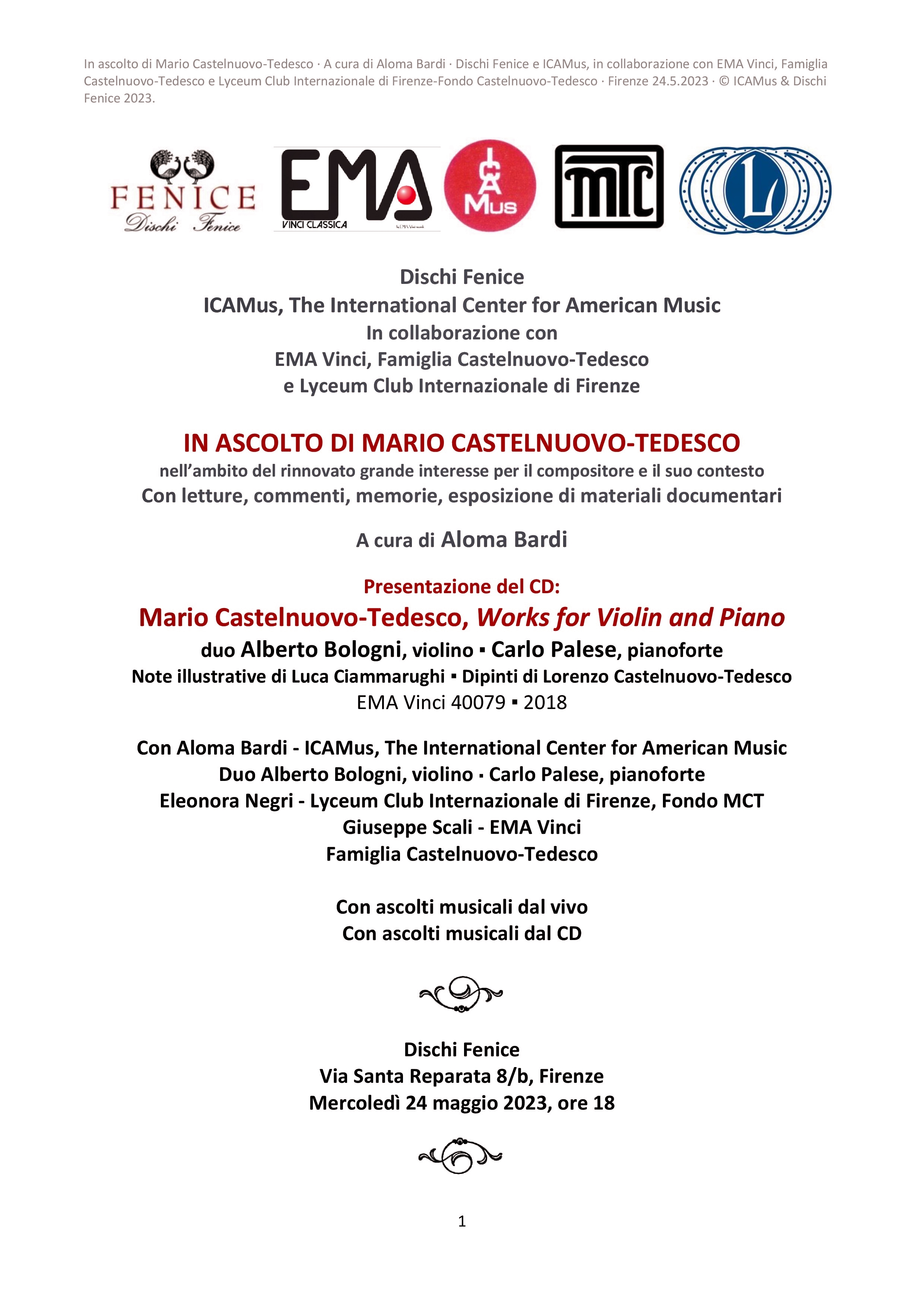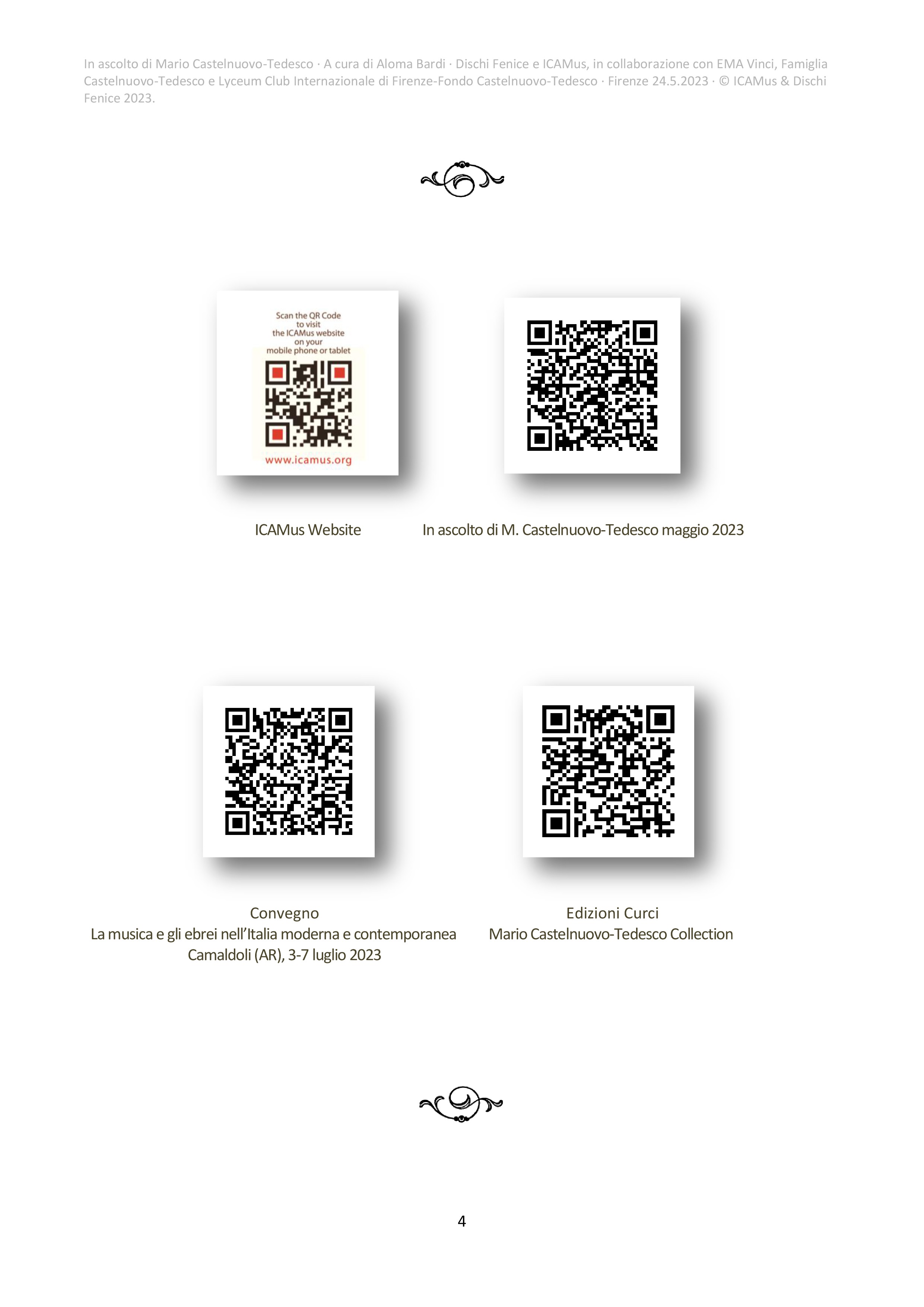 Image above: Program-Page 4, with direct access, via Q-R Code, to relevant web pages and information.