05/28/2016
The Program of June 1st, 2016 Castelnuovo-Tedesco Release Event in Florence is Online.
You are invited to view and download the ICAMus program for the Castelnuovo-Tedesco CD release event in Florence, June 1st, 2016: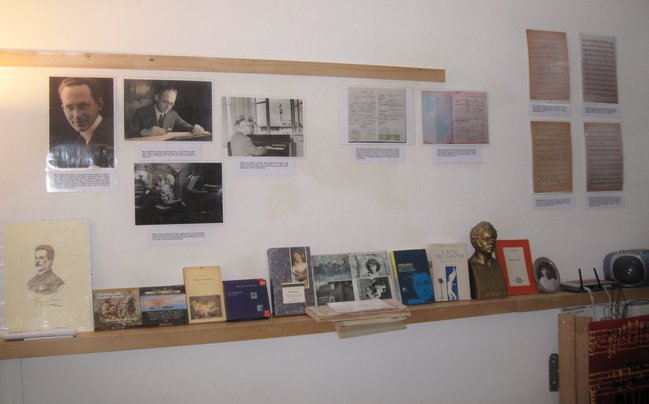 The newly released CD What Think You I Take My Pen in Hand to Record?: Settings of Whitman and Shakespeare by Florence-born American composer Mario Castelnuovo-Tedesco is celebrated on Wednesday, June 1st, 2016, 6:00 pm, at the Dischi Fenice record store in Florence, Via Santa Reparata 8/b.
The CD: Salvatore Champagne (tenor), Howard Lubin (piano); 66-page booklet with essays by James Westby, Mila De Santis, Aloma Bardi, John Champagne, illustrated with archival images; Oberlin Music, in collaboration with ICAMus, distributed by Naxos: OC 16-02; released 11 March 2016.
CD release event participants and guests: Aloma Bardi, Mila De Santis, John Champagne, Caroline Helton, Kathryn Goodson, Castelnuovo-Tedesco family members, Costantino Maiani, Lorenzo Maiani.
With live music performance (Caroline Helton, soprano - Kathryn Goodson, piano).
WE INVITE YOU TO THE DISCHI FENICE RECORD STORE IN FLORENCE
ON JUNE 1ST, 2016, AT 6:00 PM.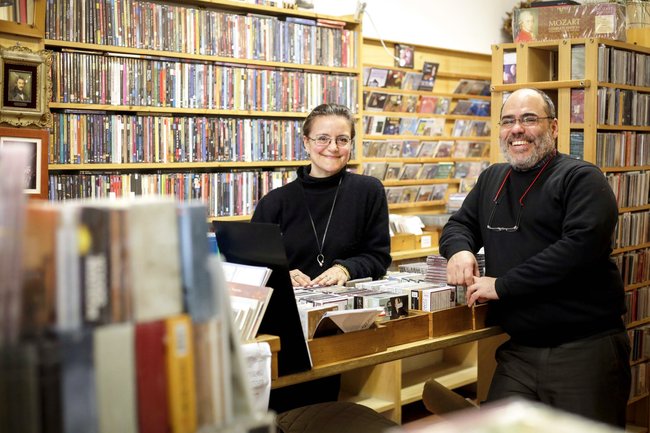 FIND OUT MORE ABOUT THE MARIO CASTELNUOVO-TEDESCO CD here.
VISIT OUR UPCOMING EVENTS PAGE ON THE CD RELEASE EVENT IN FLORENCE here.
In conjunction with the Castelnuovo-Tedesco double CD release event of June 1st, 2016 in Florence, we showcase an exhibit of archival images at Dischi Fenice. The photographs are closely related to the ICAMus projects of recent years, focused on Florence-born American composer Mario Castelnuovo-Tedesco; originals in the Mario Castelnuovo-Tedesco Papers, The Library of Congress Music Division, Washington, D.C., U.S.A.; they have been reproduced by permission in the CD booklet and in the ICAMus events and publications. ICAMus archival programs and posters at the ICAMus Studio, Ann Arbor, MI, U.S.A.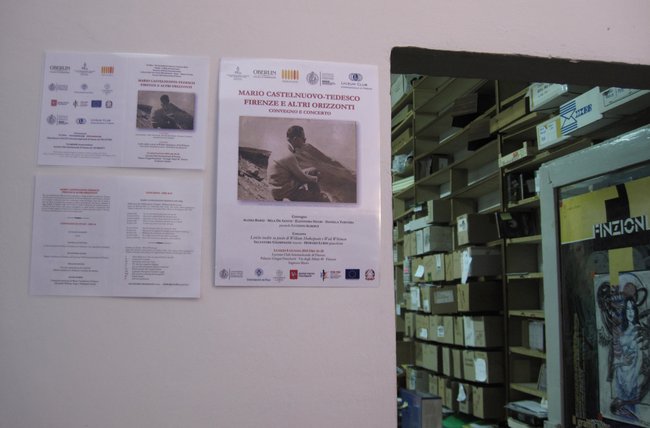 On the occasion, Dr. Helton's and Dr. Goodson's rare CD "L'Infinito": Songs from a Lost World of Italian Jewish Composers 1910-1945 will be introduced to the European audience. Art songs by Mario Castelnuovo-Tedesco, Vittorio Rieti, Leone Sinigaglia, Guido Alberto Fano. Equilibrium EQ 123; released 15 November 2013.
This recording also relied on the collaboration of Aloma Bardi and ICAMus for the research in American archives and collections, such as the Castelnuovo-Tedesco Papers at the Library of Congress Music Division, and other musical sources of Italian Jewish composers who emigrated to the Americas as a consequence of the enforcement of the Racial Laws in Fascist Italy (in particular, Vittorio Rieti and Renzo Massarani).
Dischi Fenice in Florence is currently the only seller of the two CDs (hard copies) in a record store outside the United States.