05/05/2022
The program of the ICAMus-Lyceum event in Florence on May 16, 2022 can be read and downloaded (PDF) on the ICAMus website.
Read and download the complete detailed program of the event Poets and Composers from the United States and the American Art Song, including all song texts and translations. Songs by Lori Laitman, Aaron Copland, Luigi Zaninelli, and Samuel Barber; texts by Mary Oliver, Emily Dickinson, James Agee and Frederic Prokosch. New translations, from the English into Italian, of Mary Oliver, James Agee and Frederic Prokosch, as well as the text of Zaninelli's Dickinson "Epigrams," by Aloma Bardi.
The printed program will be available for the audience at the Lyceum Club Internazionale di Firenze on the day of the event, Monday, May 16, 2022, at 4:30 PM.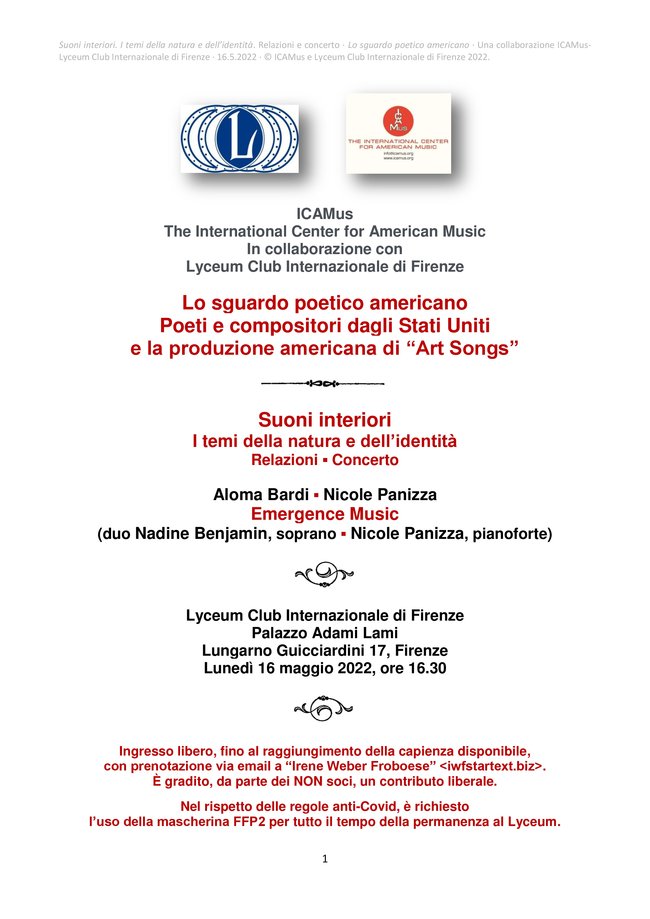 Poster design by Daniela Baggiani-ZuMedia. Emily Dickinson's portrait in the poster: Emily Dickinson daguerreotype, ca. 1847. Amherst College, gift of Millicent Todd Bingham, 1956.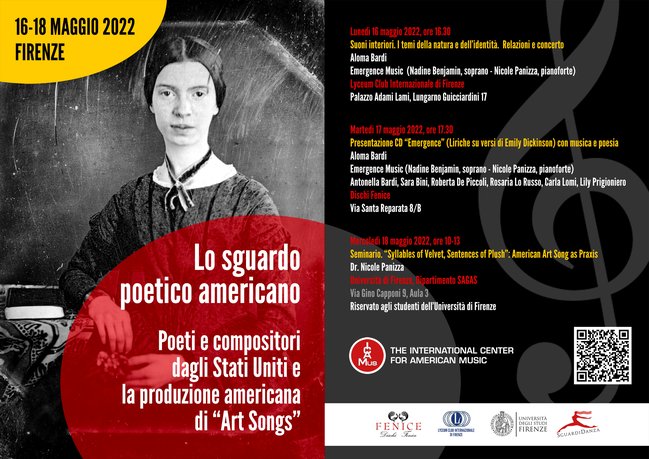 PLEASE NOTE:
The event is free of charge and there is no admission ticket, but advance email reservation ("Irene Weber Froboese" <iwf@startext.biz>) is required.
In compliance with the updated (May 1st, 2022) anti-Covid measures in Italy, proof of vaccination (Italian "Super Green Pass," or "Green Pass") is no longer mandatory. FFP2 face masks are still required.