10/04/2015
ICAMus publishes the contents of the session on Mario Castelnuovo-Tedesco presented at the "Intersections/Intersezioni" Conference (Florence, June 5, 2015).
Our New Research on a Major 20th-Century Composer.
The volume of the revised contents presented on Mario Castelnuovo-Tedesco at the Florence International Conference "Intersections/Intersezioni" on June 5th, 2015, will be published on the ICAMus Website, In-Depth Section, on October 30th, 2015.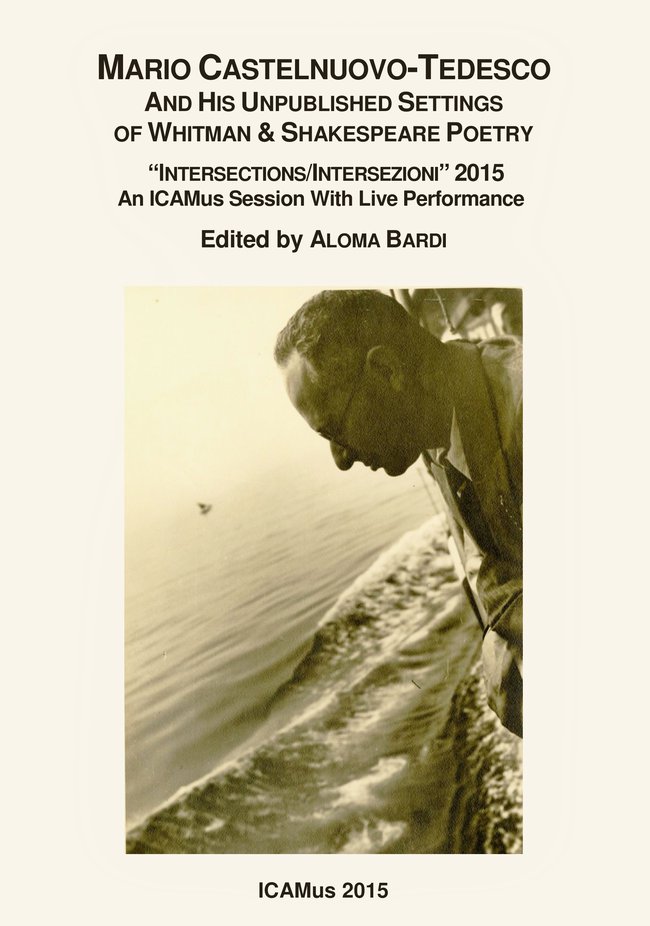 An Upcoming Publication on the ICAMus Website.
The revised contents (papers, recital program and texts, photos of presentations and of live performance) of the ICAMus session on Florence-born American composer Mario Castelnuovo-Tedesco (1895-1968) at the "Intersections/Intersezioni" Conference (Florence, June 5th, 2015) are being made available for download (PDF) on the ICAMus Website.
The session was focused on Castelnuovo-Tedesco's outstanding, unpublished settings of Whitman and Shakespeare poetry. The 10-song cycle Leaves of Grass, Opus 89b, was completed in Italy in 1936, three years before the composer and his family in 1939 were forced to expatriate to the United States as a consequence of the promulgation of the Racial Laws, shortly before the outbreak of World War II; the Shakespeare Sonnets were written in the United States in 1944-1945, 1947 and 1963.
Aloma Bardi, John Champagne, Mila De Santis and Eleonora Negri participated the ICAMus Conference Session; tenor Salvatore Champagne and pianist Howard Lubin performed a selection of rare and unpublished settings of Walt Whitman, William Shakespeare, and modern American poets, by Mario Castelnuovo-Tedesco.
"Intersections/Intersezioni" 2015 was organized by Francesco Ciabattoni, Fulvio Santo Orsitto and Simona Wright. The International Conference took place in Florence on June 5th-7th, 2015; the June 5th ICAMus Session was held in Palazzo dei Cerchi (Kent State University - Florence Program).