Publication of Barbara Boganini's article, "Giacomo Puccini e Amedeo Bassi: connessioni toscane in America." (Puccini & Amedeo Bassi: Tuscan connections in America.)
The essay is a revised version of the talk successfully presented at Museo Caruso (Lastra a Signa, Florence, Italy) on January 21st, 2018. Dr. Boganini's article is illustrated with rare archival images. In Italian.
Read and download the article (PDF):

Barbara Boganini - Giacomo Puccini e Amedeo Bassi. Connessioni toscane in America - ICAMus 2018.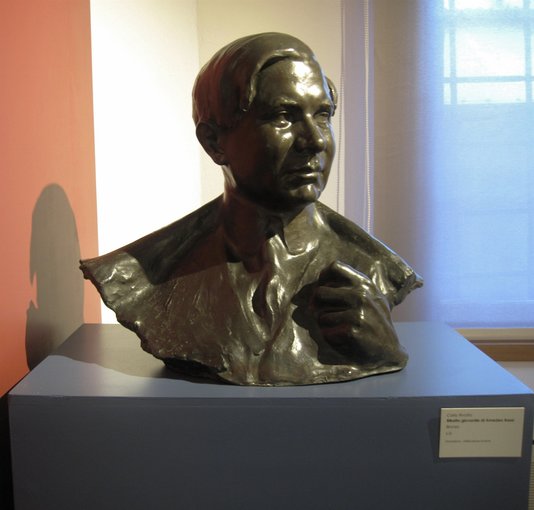 In the photo above: Tenor Amedeo Bassi (Montespertoli 1872 - Florence 1949). Bronze bust sculpture by Carlo Rivalta (Florence 1887-1941). Photo by Aloma Bardi. Courtesy Museo Amedeo Bassi, Montespertoli, Florence, Italy.
----------------------
GIACOMO PUCCINI E AMEDEO BASSI: CONNESSIONI TOSCANE IN AMERICA. L'ASCESA ARTISTICA DEL TENORE ITALIANO DALLA CAMPAGNA FIORENTINA ALLA GLORIA INTERNAZIONALE.
GIACOMO PUCCINI AND AMEDEO BASSI: TUSCAN CONNECTIONS IN AMERICAN MUSIC. AN ITALIAN TENOR'S RISE FROM RURAL LIFE TO INTERNATIONAL ACCLAIM.
BY BARBARA BOGANINI.
ICAMus PUBLISHES THIS ARTICLE IN CELEBRATION OF THE ITALIAN-AMERICAN HERITAGE AND CULTURE MONTH (OCTOBER 2018).
----------------------
In the 3 photos below: tenor Amedeo Bassi as Dick Johnson. From the photographic proofs for La Fanciulla del West, Chicago production, 1911 (The Chicago premiere took place on December 27, 1910, seventeen days after the world premiere of the opera at the Met). Archivio Storico Teatro Regio, Turin, Italy; reproduced by permission.

Born in the little town of Montespertoli, near Florence, Bassi was acclaimed worldwide in Puccini's "American opera" La Fanciulla del West.
This article focuses on the US debut of Amedeo Bassi, and the importance of Puccini's operas in his career, in particular La Fanciulla del West; it investigates Bassi's American successes, on the background of Italian culture and its reception in the early 1900s in the United States, at the time when Enrico Caruso was an acclaimed star of the Metropolitan Opera. Caruso premiered the role of Dick Johnson at the Met on December 10, 1910, Arturo Toscanini conducting.
This research explores the greatness of Amedeo Bassi and his unique career in the Americas, and offers a more comprehensive view of international musical life in the early 1900s.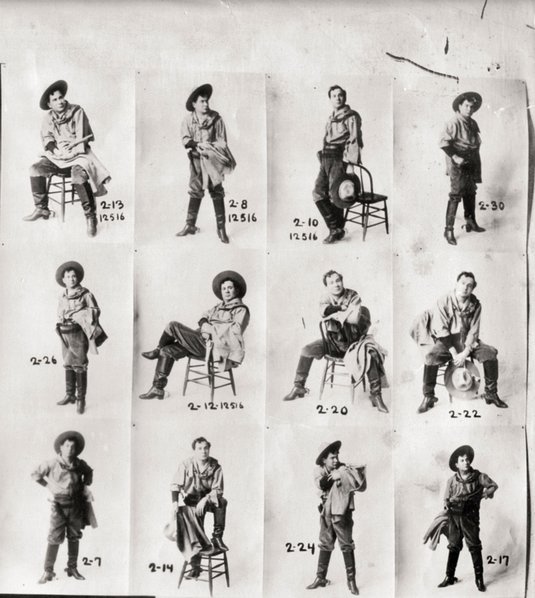 Barbara Boganini's talk presented at Villa Caruso (Lastra a Signa, Florence, Italy) on January 21st, 2018, was a collaboration of ICAMus with Museo Enrico Caruso and Teatro del Maggio Musicale Fiorentino.

In the photo below: flyer for Dr. Boganini's talk, Museo Enrico Caruso, January 21st, 2018, and Museo Amedeo Bassi inauguration poster, November 30th, 2014. Framed and displayed at the ICAMus Studio in Ann Arbor, MI, USA.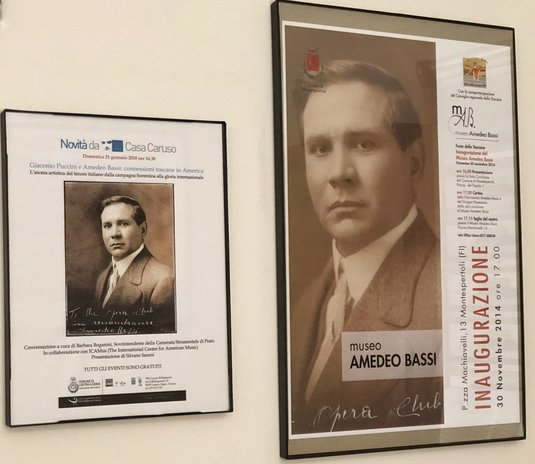 The Work of Barbara Boganini with ICAMus on Puccini, "La Fanciulla del West" and American Subject Matter.
General Manager at Camerata Strumentale "Città di Prato" and ICAMus Board Member since November 2011, Dr. Barbara Boganini is a Puccini scholar specializing in La Fanciulla del West and its connections to American music and culture.
Discover the scholarly contributions by Barbara Boganini in this field over the years:
Giacomo Puccini, Amedeo Bassi, Alberto Bimboni: Tuscan Connections in American Music. In Winona, 'All-Indian Opera' by Florentine-American Composer Alberto Bimboni (1882-1960) and the Italian Contribution to the Indianist Movement in American Music and Culture, "Intersections/Intersezioni" 2017, ICAMus Session. Aloma Bardi, Editor. Essays by Davide Ceriani and Alexandra Monchick, Barbara Boganini, Aloma Bardi, Gretchen Peters. The essays are illustrated with archival images from the ICAMus Collections. ICAMus, May 15, 2018. Essay by Barbara Boganini; Complete Volume.
Previously unpublished letters by Giacomo Puccini on La Fanciulla del West, 2nd Part, ICAMus Publication 2012.
Previously upublished letters by Giacomo Puccini on La Fanciulla del West, 1st Part, ICAMus Publication 2011.
Conference Paper on American musical sources of Puccini's Fanciulla del West, Palermo, December 2010.
L'Occidente d'oro. Puccini e il Nuovo Mondo; Radio program in 3 parts, ReteToscana Classica, Prato, November-December 2010.

Lecture on the American subject matter in La Fanciulla del West, Bologna, November 2009.
Learn more about the Author. Find Barbara Boganini's biography at this page.
Learn about the Museo Amedeo Bassi and the Museo Enrico Caruso at this page.