03/09/2022
Upcoming ICAMus performance of Samuel Barber songs in Florence, May 2022. The composer was born on this day in 1910.
A selection of Samuel Barber songs will be performed in Florence, Italy, as part of an ICAMus program presented in collaboration with Lyceum Club Internazionale di Firenze. The program Poets and Composers from the United States and the American Art Song is directed by Aloma Bardi and Nicole Panizza.
Samuel Barber (1910-1981). Knoxville: Summer of 1915, Op. 24, H-114 (1947-50); Two Songs from Op. 13, H-93 (1937-40): Sure on this shining night; Nocturne.
Emergence Music (Nadine Benjamin, soprano - Nicole Panizza, piano).
Monday, May 16, 2022, Lyceum Club Internazionale di Firenze, Palazzo Adami Lami, Lungarno Guicciardini 17, 4:30pm.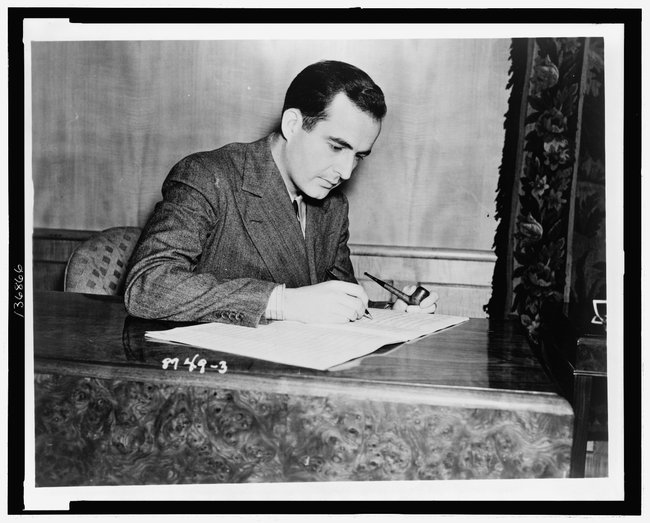 In the photo: Samuel Barber revising a musical manuscript; October 26, 1938; NBC Photo; New York World - Telegram & Sun Collection – BIOG, The Library of Congress Prints and Photographs Division, Washington, DC. © NBC.
Discover the May 16, 2022 event program HERE.
Discover the ICAMus Florence program, May 16-18, 2022 HERE.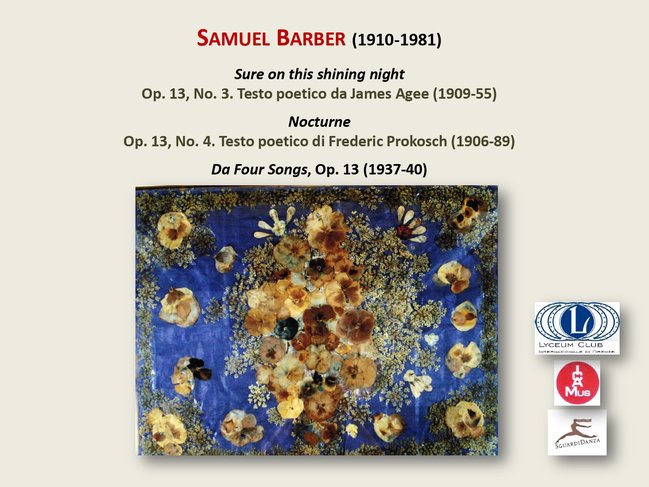 The image above is a slide from Aloma Bardi's video lecture Lo sguardo poetico americano. "America is a Poem." The original artwork featured in the illustration is by Antonella Bardi-SguardiDanza Centro per la Coreografia e le Arti Visive: Old Map from the Past. Emily Dickinson's Herbarium Reimagined, mixed media collage on paper; cm. 91 x cm. 71; 2002.
Learn about the video HERE.
Watch the video HERE.
ICAMus has worked on Barber over the years. View and listen to the score incipits and relevant Sibelius SCORCH audio files of Samuel Barber's Thematic Catalogue. The Table of Contents and the Index Numbers refer to Samuel Barber: A Thematic Catalogue of the Complete Works by Barbara B. Heyman (Oxford University Press, 2012). This online publication is an innovative ICAMus project carried out by special arrangement with Dr. Heyman and with the Publisher. Barbara Heyman is the author of Samuel Barber: The Composer and His Music (Oxford University Press, 1992). Discover the online publication HERE.
Learn about the collaborations of ICAMus with Duo Keira on Samuel Barber, and find further information on the Duo's accomplishments in American music HERE.

Discover the ICAMus Barber CD Celebration 2014 HERE.

Watch the Barber CD Celebration 2014 HERE.